Top Hotels With The Most Exciting Halloween Activities In Danang
In recent years, Halloween has become more and more popular and being expected by many people, especially children. Danang city, at the end of this October, proudly presents to you the most exciting Halloween activities at the best hotels in Danang. Nhu Minh Plaza Danang Hotel happily accompanies and shows you the best choices for this special occasion!
1. Pumpkin Carving Workshop – Nhu Minh Plaza Danang Hotel
The Pumpkin Carving Workshop will be organized at 3 PM October 25th, 2019 at Canary Restaurant on the 2nd Floor of Nhu Minh Plaza Danang Hotel, promising to bring you extremely exciting experiences.
With only 49,000 VND, join us in such a creative, interesting Pumpkin Carving class in an unique Halloween decoration space. And we also offer 1 free unit of drink for every attendance. This is a great opportunity for your children to have fun!
To participate in this event, you can buy tickets in 2 ways:
– Buy directly at our Reception.
– Leave us a message on our Fanpage to reserve tickets and get them later at our Reception.
Fanpage: www.facebook.com/nhuminhplazadananghotel
(Note: For booking online, please arrive 10 minutes before the event's starting time to get your tickets).
Join Nhu Minh Plaza Danang Hotel and make unforgettable Halloween memories together at our unique Pumpkin Carving Workshop now!
2. Special Halloween Style Buffet – Premier Village Danang
Premier Village Danang in this Halloween season offers a Halloween style buffet with two attractive packages on October 28th. These 2 superb packages are applicable to resort guests or families who are looking for a stylish Halloween entertainment spot in Danang on this occasion, including:
Superman package: 690,000 VND / adult.
Witch package: 990,000 VND / adult.
Especially, these packages are free for children under 4 years old accompanied by adults and discount up to 50% for children from 4 – 12 years old.
With these two packages, tourists can fully enjoy a great Halloween with delicious and fresh grilled seafood in a mysterious, funny and joyful space of "Hoa Lo Quy" festival, …
3. Novotel Danang Premier Han River Exclusive Buffet
The Square restaurant at Novotel Danang Premier Han River has designed an alluring fairy-tale Halloween on evenings of October 26th and 27th, where your little angels can dressed in Halloween costumes of many adorable characters such as Elsa – Frozen, Spider-Man, Superman, …
Not only brings the cozy and joyful Halloween space, Square Restaurant also offers families and children a buffet including ample famous exquisite dishes made by the top-notch chefs with only 580,000 VND / adult. Especially, for children under 12 years of age participating in the costume game, the buffet will be free.
4. Pullman Danang Beach Resort – Trick or Treat Halloween Buffet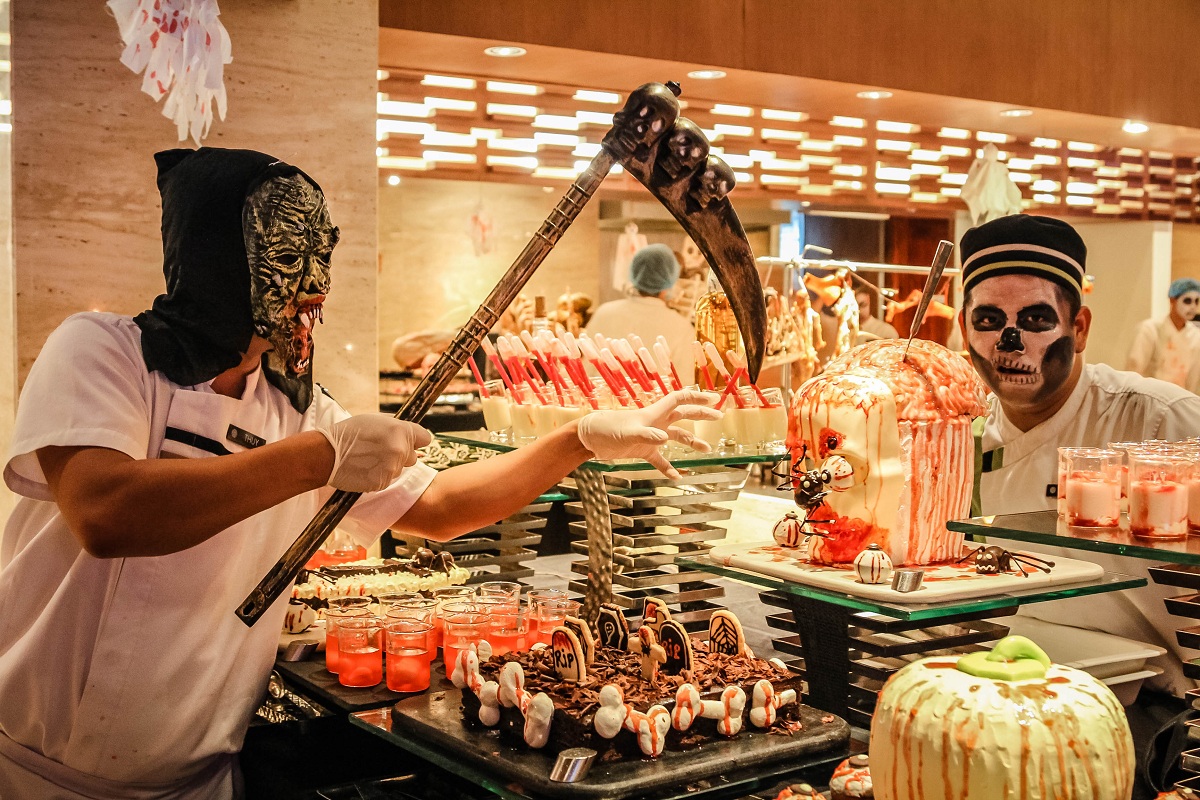 On October 31st, 2019, Pullman Danang Beach Resort proudly oganizes the Halloween Buffet "Trick or Treat" with a very special theme.
Hury up and make a plan with your family or friends for a special Halloween buffet at Epice restaurant with lots of fresh seafood, crispy and fragrant BBQ, savory salads or sweet desserts  on this October 31st evening.
5. Halloween Exclusive Cocktails at Hyatt Regency Danang Resort & Spa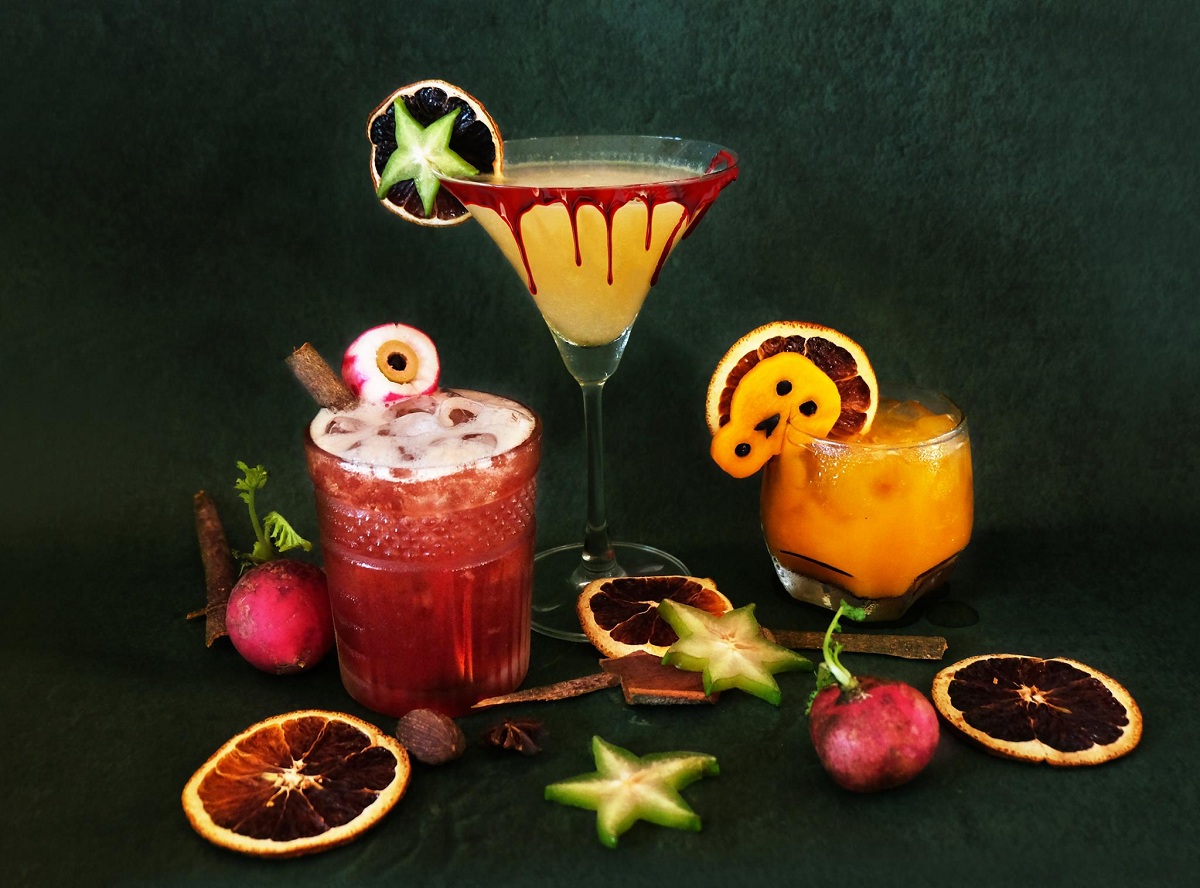 In harmony with the atmosphere of Halloween, Terrasse restaurant at Hyatt Regency Danang Resort and Spa will serve a special menu of snacks and special cocktails in October with many delicious and unique cocktails like Poisoned Apple (apple juice, sparkling wine, pomegranate juice, tequila) Devil's Old Fashioned (tequila, honey, bitters), the Widow (gin, lemon juice, apples and pumpkin syrup , grenadine syrup and egg white), …
6. Halloween Party at Grand Mercure Danang
Grand Mercure Danang Hotel will organize a true Halloween party on Saturday, October 27th, 2019 from 4 PM to 9:30 PM. It is a great choice for families participating in this party with the most creative, fancy costumes in the happy and splendid evening.
Price: 600,000 VND / Children over 12 years old & adults and 300,000 VND / children from 6-12 years old (Free for children under 6 years old).
Danang in this Halloween month with these top most exciting activities will not let you down. Finding a suitable place for you and your beloved families to fully enjoy Danang city? Nhu Minh Plaza Danang Hotel is proud to be your excellent option and make a meaningful and unforgettable Halloween together!
Contact us now
Address: Lot 2 – A2 – KH Pham Van Dong, Son Tra District, Danang, Vietnam, 550 000
Telephone: 02363 555 666
Email: info@nhuminhplazahotel.com
Website: https://nhuminhplazahotel.com/
Fanpage: www.facebook.com/nhuminhplazadananghotel